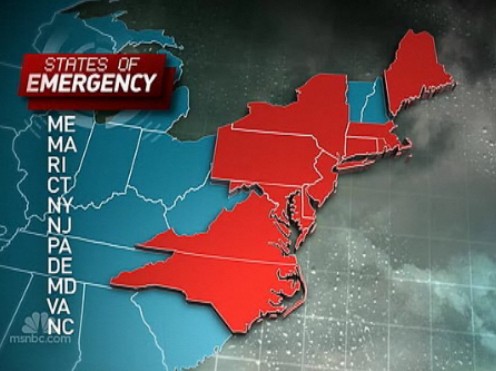 Traffic Jams 20 Miles Long As Over 2.5 Million People Are Evacuated In The Face of Extensive Storm Surge Flooding From Hurricane Irene, Which Has Already Set New Record Highs In North Carolina.
Top developments:
2.5 million under evacuation orders; 550,000 are in NYC, Long Island
NYC, N.J., Philadelphia to suspend mass transit service during part of weekend
Hard rain falls on North Carolina's Outer Banks; max winds weaken to 100 mph
Obama to leave vacation island a day early due to Irene
States Of Emergency Issued In ME, MA, RI, CT, NY, NJ, PA, DE, MD, NJ
Hurricane Warning Issued For North of Sandy Hook, New Jersey all the way to Sagamore Beach, Massachusetts, including New York city, Long Island, Long Island Sound, Coastal Connecticut, Rhode Island, Block Island, Martha's Vineyard and Nantucket.
Massive storm surge warning issue along entire east coast from NC northward to MA.
North Carolina already hit by record high storm surge flood levels
Flood model forecasts for Central NJ and NY City Area
Irene models show Cape May Underwater
NJ gas stations out of Gas
Major highways being shutdown or re-routed for one way traffic
Irene now much larger than Katrina
Officials say it may take weeks to help the 65 million people estimated to be impacted.
States Of Emergency Declared Along US East Coast
States Of Emergency Declared Along US East Coast
With Hurricane Irene now much larger than Hurricane Katrina, 65 million people are expected to be impacted by the storm and several states have moved to declare a state of emergency.
Local, State and Federal officials are not taking the threat lightly either and have implemented a system of evacuations that include shut down mass transportation and major highways well in advance of the storm landing on the shores of the Mid-Atlantic states. The strategy has been called forced evacuations, even by CNN and it may be for the best.
Hurricane warnings have now been issued for NYC, Long Island and northward up to Massachusetts. The new warnings are also accompanied by an increase in the storm surge heights forecast which are now predicted to reach as high as 8 feet from the Chesapeake Bay all the way to Nantucket, MA.
New York City has issued mandatory evacuations for the first time in history. The Jersey Shore has followed suit and evacuations in both areas are based on models of flooding predicted by the storm surge.
The AFP quotes top U.S. officials as saying many evacuees and storm victims may have to wait weeks for an official government response as the forecast shows the effected population will be the greatest ever in history.
As gas stations in the NY metropolitan area run out of fuel, highways are backed up for 20 miles and even a massive evacuation of nearly 3 million people continues. The evacuation includes over 1 million in Cape May, NJ alone, which models show is predicted to be underwater.
Perhaps a glimmer of hope is that while Irene's continues on the forecast path — which happens to be the worst case path –the latest satellite IR and radar of Irene shows the storm slightly weakening, with little chance of restrengthening.
While that means less of a threat from wind to areas beside New York city the massive size of the storm, which can be seen in the latest NASA satellite photo of Irene, means widespread flooding due to storm surge as MSNBC reports below. In fact, North Carolina is already seeing record high storm surge flood levels from Irene.
http://blog.alexanderhiggins.com/2011/08/26/hurricane-irene-traffic-jams-20-miles-long-25-million-evacuated-extensive-storm-surge-66401/