everybody wants to get into the act...
[youtube][/youtube]
************
[youtube][/youtube]

************
Comet Elenin Images from STEREO-B spacecraft
By admin– August 3, 2011
Posted in: Comets and Asteroids
The approaching Comet Elenin has triggered suspicious and fearful speculation among some observers. A contribution to this brouhaha has been the lack of images of this visitor from deep space, but at last there are images from a NASA space observatory of this oncoming comet.
On 1 August 2011 Comet Elenin (C/2010 X1) passed within just 7 million km of the STEREO-B solar observatory spacecraft. Taking advantage of this happy coincidence, the spacecraft was physically rolled to allow it to spend an hour capturing images of the little comet and its coma with its wide angle HI-2 instrument.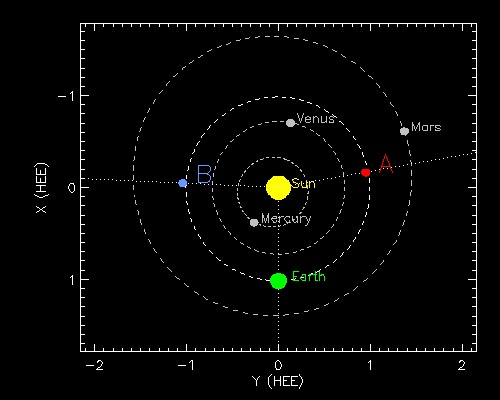 This diagram of the inner Solar System shows the positions of both STEREO spacecraft on 1 August 2011. (Image credit: NASA)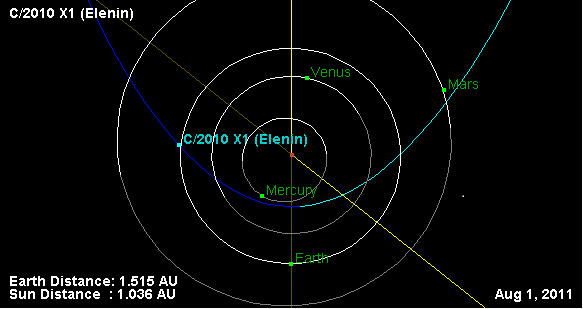 This is a similar diagram showing the orbit and position of the comet for the same date. (Image credit: NASA)
The STEREO spacecraft will make hour-long observations every day for the next week or longer until the comet enters its normal field of view. Then the comet can be continuously observed into September with other instruments, such as the SOHO C3 coronagraph.
Astronomers expect that the comet will become significantly brighter to STEREO-B over the next few days due to an effect called "forward-scattering" when sunlight is reflected of the dust in the comet's coma directly towards the spacecraft . This is purely an observational artefact of STEREO-B's position with respect to the Sun and comet and does not mean anything significant is happening to the comet itself.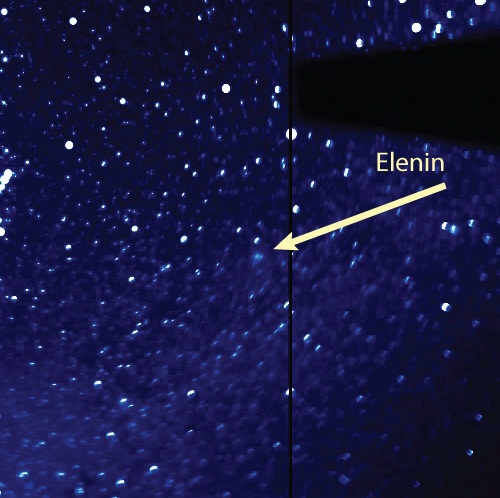 The first images show Elenin to look just as you would expect a small comet to look. No tail is visible yet. It is clearly not a planet-sized body, or a brown dwarf or a red dwarf. It is exactly where it was expected to be. Hopefully this will reassure the worried that this is just another comet (like the much more interesting Comet Garrardd (visible with binoculars near Pegasus).
http://www.armaghplanet.com/blog/comet-elenin-images-from-stereo-b-spacecraft.html
************
Comet Elenin as seen by STEREO-B, and what we think is going to happen next...
Few comets have generated the hype and blatant misinformation that Comet Elenin has. For some reason, an object that was predicted to be possibly quite bright and pass relatively close to Earth, has been distorted into something that some allege could destroy the planet! I have received emails of genuine concern from people fearing Earth's tides and continental plates will be altered, and/or that debris from the tail will strike the Earth. These are absurd claims.
On July 31st 2011, the much-hyped Comet C/2011 X1 (Elenin) passed within 0.049AU, or about 7-million miles, of the STEREO-B spacecraft. Over the coming few days, it will pass almost directly between the spacecraft and the Sun, and offer us an unprecedented early view of this highly anticipated object. As a scientist on the STEREO project, and an obvious comet enthusiast, I am very excited at this event, but my excitement is tempered somewhat by concern at how STEREO's dynamic view of Elenin could potentially be very misconstrued over the coming days. Here's the full story, but if you have a short attention span, the paragraph marked "Appearances can be deceiving" is the crucial one here.
STEREO sees Comet Elenin
Beginning August 1st 2011, we started to roll the STEREO-B spacecraft for two hours per day to observe Elenin. We were unable to maintain this roll angle (~135-deg) because it negatively impacts the science return from all the other instruments on STEREO which rely on the 0-degree roll angle. Why did we even have to roll at all? Here's a good analogy: If you look through a cardboard tube, you can easily see a crowd of people 30ft away while missing a person standing 12-inches to your right. That was STEREO's problem -- the comet was so close, we would actually miss it at our nominal roll angle! So we are rolling the spacecraft and are observing it... successfully!
On the left is the first set of images taken of the comet on August 1st, 2011 (click the image for a bigger animation). You can easily see the comet moving against the background star field on the center-right of the images. (Sirius is the big bright star that is 'bleeding' down towards it, and M42 and the constellation Orion can be seen on the left.) This small fuzzy ball is what all the fuss has been about. It's clearly not a "second Sun", or a brown dwarf, or giant super-comet, alien spacecraft, or any other such fanciful object. It's just an ordinary little comet. It doesn't even have much of a tail visible -- just a nice central nucleus and classic diffuse coma. It is somewhat reminiscent of Comet Holmes from a few years back, but is substantially smaller than that object.
This is just a cropped subfield of the full field of view. You can download all the available original images from this 2-hour block from the links at the bottom of this page. These images are FITS files so you will need an appropriate viewer of some kind (e.g. DS9). The field of view is 70-degrees wide, and the images have a resolution of 1024x1024 pixels, so this corresponds to ~15-pixels per degree, making Elenin appear to be approximately 1-degree wide right now, if a little less.
And here's an important point to note if you are concerned about this comet approaching Earth: when these images were taken, the comet was almost FIVE TIMES CLOSER to the delicate STEREO-B spacecraft than it will ever get to Earth. Five times! That's some 20-or-so million miles. Concern about this comet is completely unwarranted.
Appearances can be deceiving
So we've seen what Elenin looks like, and hopefully concerns over the nature of this object have diminished somewhat. But there is a twist in this tale, and it is crucial to understand what we think we could see over the next few days: we predict that Comet Elenin is going to appear to get significantly brighter in the STEREO images over the coming few days. But this is not cause for concern!
The STEREO-B spacecraft is a long way from Earth. As you can see here, it's over half-way around the Sun from Earth (Elenin is the white asterisk right next to STEREO-B). As Elenin crosses the STEREO-B images, it will appear to get closer to the Sun as seen from the perspective of STEREO-B, and as it does so, it will appear to get much brighter. For comets, we call this process forward scattering, and without going into the depths of the science, it means that the sun is back-lighting the comet, and the dust and ice crystals are reflecting and enhancing the apparent brightness of the comet by scattering that light towards us.
Of course the comet will get inherently brighter as it gets closer to the Sun -- they all do this -- but that effect will be quite minimal compared to forward scattering. The effect of forward scattering can be tremendously strong, enhancing an object's brightness by several orders of magnitude (depending upon how "dusty" the comet is), and that is what we anticipate seeing in the STEREO-B images over the next two weeks or so. After that it should fade somewhat again.
It is worth noting that we will also witness this effect from Earth in late September when the comet reaches its minimum elongation. However, the comet will be so close to the Sun in the sky that it will only be "visible" during the daytime and hence probably not easily visible at all as the bright sunlight overwhelms our eyes. By the time Comet Elenin has moved far enough from the Sun for us to see from Earth, this forward scattering effect will be substantially lessened. This was one of the reasons that astronomers initially felt that Elenin had the potential to be extremely bright: had it been a large dusty comet (which we now know it is not) then it could have provided a truly spectacular view, even in the middle of the day. But the comet is quite ordinary, if a little on the small side, and certainly seems to be much gassier than it is dusty.
In summary...
So here's the bottom line: On July 31st, Comet Elenin passed harmlessly by STEREO-B at a distance almost five times closer than it will ever reach Earth (so I'm quite confident that Earth will cope just fine with its passage!). Beginning August 1st we successfully rolled STEREO-B in order to see it, and plan to continue to do so for the next few days. We are predicting that from the perspective of STEREO-B, it could appear to get significantly brighter. This brightening, however, would not be "real" in the sense of the comet actually physically changing, but is instead a consequence of it being close to the spacecraft while increasingly in line with the Sun. Comet Elenin will get to approximately 0.23AU (~35-million miles) from Earth in October 2011, and if we are very lucky could be just about bright enough for naked-eye viewing in good twilight conditions. In late September it will cross the SOHO/LASCO C3 field of view, and we will certainly have lots of great images and movies to show at that time. Please enjoy the show!
--------------------------------------------------------------------------------
--------------------------------------------------------------------------------
--------------------------------------------------------------------------------
Data and movies
Raw FITS files (20MB .tar.gz) for August 1st, 2011
Raw FITS files (20MB .tar.gz) for August 3rd, 2011
Cropped Quicktime movie (130KB) from August 1st, 2011
Cropped Quicktime movie (130KB) from August 2nd, 2011
Cropped Quicktime movie (202KB) from August 3rd, 2011
I will update these periodically as and when we get data, and I get time to tar/zip and upload them. These are what we call our 'playback' data, not our final data product, which is why we can get these few out relatively quickly. The entire data set for each day will still take up to 4 days to appear in our SECCHI database. Feel free to email -- we always reply to all (reasonable) questions!
http://sungrazer.nrl.navy.mil/index.php?p=Elenin
************
What's new on the Sungrazer site?
Aug 4 2011: Images, data and movies about Comet Elenin in STEREO-B.
--------------------------------------------------------------------------------
Jan 13 2011: News release: "Sundiving Comet Storm".
--------------------------------------------------------------------------------
Dec 28 2010: SOHO discovers its 2,000th comet!
--------------------------------------------------------------------------------
Dec 2 2010: Celebrating 15yrs of SOHO Comet Observations!
--------------------------------------------------------------------------------
Welcome to the home page of the SOHO/LASCO and STEREO/SECCHI comet program, based in the Solar Physics Department of the U.S. Naval Research Laboratory, Washington D.C.
On this website you can view and submit reports of suspected comets visible in LASCO and SECCHI satellite images. You will find information on past comets found by both instruments and from other spaceborne and ground-based instruments. There is also a wealth of information here designed to help newcomers discover their first SOHO or STEREO comet! In addition, pictures and educational resources that can be used both in the classroom and at home are shown throughout the site.
SOHO is the most successful comet discoverer in history, having found over one thousand eight-hundred comets in over thirteen years of operation! What's even more impressive is that the majority of these comets have been found by amateur astronomers and enthusiasts from all over the world, scouring the images for a likely comet candidate from the comfort of their own home. Absolutely anyone can join this project -- all you need is an internet connection and plenty of free time! (See the FAQs for more information.)
STEREO is a pair of near-identical satellites designed to monitor the Sun from very different viewpoints in the solar system. The imaging instruments on STEREO (known as the SECCHI suite) are of similar design to the LASCO instruments on SOHO, meaning that we see many comets in the SECCHI data. Due to a longer data processing time for SECCHI, most near-Sun comets are discovered first in LASCO images, but an increasing number of objects are now being found in SECCHI data.
Follow the "Introduction" links on the left for more information about both SOHO and STEREO.
--------------------------------------------------------------------------------
SOHO's Current Discovery Count is 2,110 Comets!!
http://sungrazer.nrl.navy.mil/